Is Cold Press Oil Mill Profitable?
What Is Cold Press Oil Mill?
As it is known that there are the common oil is pressed or extracted by the oil mill. During the oil pressing production, the temperature in the pressing barrel is high, which is called hot press method. With low cost, almost people choose hot pressing method to make oil. With the increasing high quality life demand and the oil milling technology development, cold pressing method has been developed a lot. (Rlated article: mustard oil extraction process)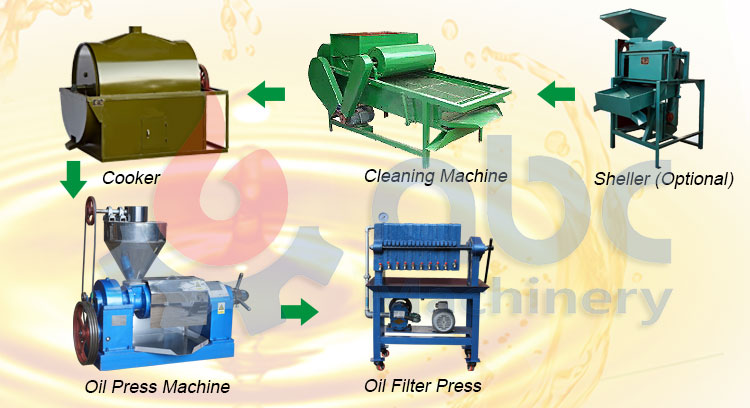 Cold Oil Pressing Production Line
Cold oil pressing is a method of producing oil completely through physical and mechanical action under the low temperature. Without the high temperature environment, the nutrition inside the oil can be maintain better. So more people choose cold pressed for use, which attracting investment in cold press oil mill business. (Rlated article: cottonseed oil mill project cost)
Main Process Comparison of Two Oil Processing Methods
Traditional hot pressing oil making process: oil material - cleaning - shell and kernel separation ---- drying and cooling - crushing and peeling - embryo rolling - high temperature steaming and frying - high temperature pressing - precipitation and filtration - refining - finished oil

Cold pressed oil making process: oil material - cleaning - shell and kernel separation - tempering - cold pressing - selection - cold pressed finished oil.

Screw Oil Press for Making Cold Pressed Oil on Sale
Among the market, some manufacturers advertising their oil press is specially designed for cold press oil production which has high price. But actually this is a misleading, because narrowly speaking, it refers to a process of oil extraction in the production of edible oil, instead of the whole process. From the comparison above, we can see that the most difference of two method is the temperature in oil seeds pressing process. So with the screw oil press, we can also realize the cold oil pressing by controlling the pressing temperature during the process.
Parameter of Screw Oil Mill Machine
| Model | Capacity(t/d) | Power(kw) | Weight(kg) | Packing size(mm) |
| --- | --- | --- | --- | --- |
| ZX24-3 | 18-24 | 30+5.5+3 | 5500 | 2900×1850×3640 |
| YZY260 | 40-50 | 75 | 9000 | 3800*2320*3800 |
| ZX283-3 | 40-60 | 55+15 | 9380 | 3708*1920*3843 |
| ZX320-2 | 100-130 | 90+11+5.5 | 11500 | 4100*2270*3850 |
| YZY290 | 150-220 | 135 | 14500 | 5100*2150*3900 |

Feasibility of Starting Cold Press Oil Mill Business
Today, with the promotion of healthy diet, as people's awareness of health care increases, more and more consumers are pursuing the effect of natural food processing back to the basics, and the health care functions of various low-temperature cold-pressed health oils are gradually becoming familiar to people. Cold pressed oil can be considered a kind of oil production process to meet the needs of "green" consumption. (Read more: sesame oil manufacturing process)

Cold pressed oil mill has wide application, not only used as edible oil, but also used in many fields such as health, beauty, medicine and chemical industry. Thus there is a large market around the people's daily life. And the raw materials and finished oil price disparity, profits are relatively substantial, low temperature cold pressed oil gradually become the darling of the investors to start new business plan. (See more: mustard oil business plan)