What is Equipment for Cooking Oil Production Plant Setup?
Cooking oil is the necessity for every family in every country. There are many oil crops can be processed into high quality cooking oil, like sunflower seeds, soybeans, groundnut/peanut, oil palm, palm kernel, mustard seeds, cottonseeds, corn/maize germ, sesame seeds, rice bran, coconut/copra, tea seeds, grapeseeds, etc. (Related Post: How to Extract Oil from Soya Beans?)


Start Cooking Oil Production Business
It is no doubt that there are always demands for cooking oil, especially high quality cooking oil. Many people desire enter into cooking oil production industry for its business potentials, but as start-up or beginner, where should they start? To ensure the success of cooking oil manufacturing business, it is neccessary to get a complete understanding about cooking oil production and local or global cooking oil market.
How to Setup a Complete Cooking Oil Production Plant?
Starting up a cooking oil mill plant can seem like a lot of work, but it's actually very easy once you have your cooking oil production business plan. There are just some simple steps that you need to take in order to successfully operate a oil mill plant.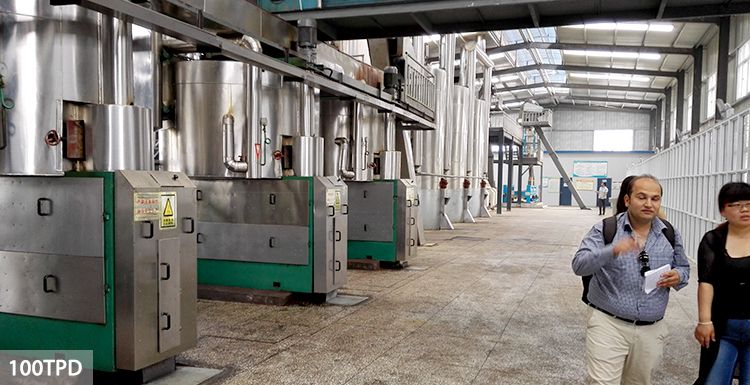 Complete Cooking Oil Production Plant
Get Customized Business Plan
First of all, make sure that you've got your plan in the right direction.You can ask for advice from a professional on the matter, because they can point you in the right direction through the design process. Customized plans are more appropriate to your situation and less likely to go wrong. (Related post: Oil Extraction Business Plan >>)
Find Right Supplier and Buy Required Equipment
Once you get your plans in place, then you can looking for the manufacturer or supplier from the local market or the international market. A reliable supplier can help you choose the right cooking oil production equipment and setup the factory to unnecessary spending and lower the investment cost. (Read more: Oil Mill Project Cost >>)
Establish Market Strategy for Your Cooking Oil
The market competition of cooking oil is very fierce all the time. In addition to ensure the high quality of products, reasonable marketing strategy can help you gain customers faster, build your own brand and expand the sales.
Above is some of information on starting cooking oil production line. It is not difficult, but still requires complete plan. Maybe some of you have know how to start their cooking oil production business, and what they want to know mostly is the full set of equipment for a complete cooking oil production plant and what is cost of investment?

Full Set of Equipment for Cooking Oil Production Plant
Typically, the equipment to process oil crops into cooking includes seeds pretreatment equipment, oil extraction machine, oil refinery equipment, oil filling and pcakaging machine. Choosing which type of equipment should be based on the property of raw materials, the planned production capacity and the investment capitals. Just contact us directly to get detailed equipment models and price list, we are happy to offer you all the technical information!
Small Scale Cooking Oil Manufacturing Plant Setup Cost
For start-up or beginners, starting a small scale cooking oil production plant would be a great choice due to its low investment capitals, easy operation, full functions and less spaces. And, the short cycle of investment return is also a great advantage of small scale oil mill plant. (Read more: Mini Oil Mill Project Cost >>)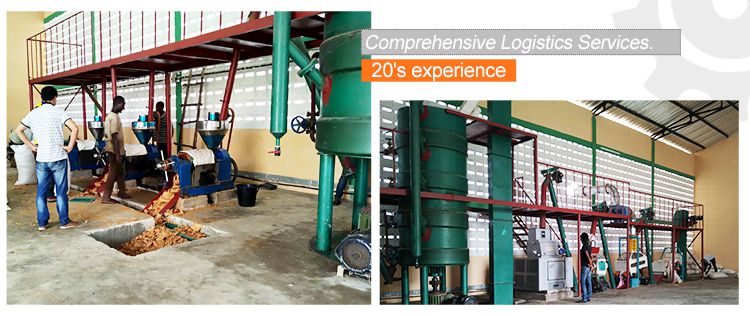 Cooking Oil Production Line
In most cases, small cooking oil production machine has seeds sheller, cooker or steaming machine, screw oil press machine, oil filter machine, and/or mini oil refinery line. And, the cost to set up a small scale oil production line for cooking oil is also based on the detailed capacity and equipment medels. On the market, a 5tpd cooking oil pressing line would cost about $10,000 around or higher. And, the prie is not fixed, it mainly fluctuates with equipment materials and other factors.
ABC Machinery is a professional supplier and manufacturer for vegetable oil processing. The small cooking oil production line we provided is from 5tpd~30tpd. We have rich experiences in factory layout design, equipment selection and onsite installation and commissioning. In the past twenty years, we have built a lot of small scale oil mill plant projects in at least 60 countries in Africa, Asia, Europe, America and Oceania. If you want to know whether we have built oil mill project in your region, contact us directly and our service team will try best to arrange you visit our projects!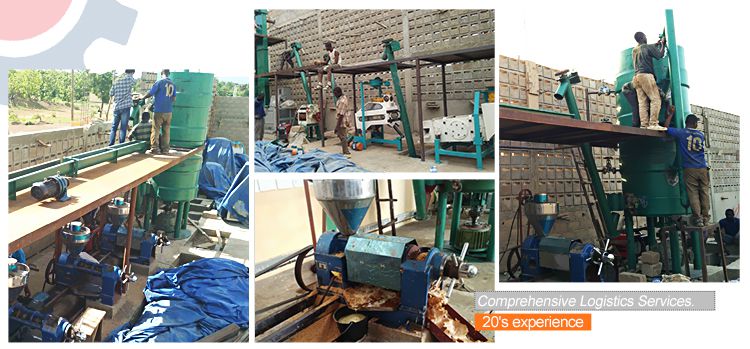 Setup Cooking Oil Production Plant
We will offer the customized plan based on your specific oilseeds and budget. Our goal is to help customers set up an efficient oil production line to produce high quality cooking oil. We will ensure the advanced technology and long-service of our equipment.

Small Cooking Oil Production Machine for Sales
Small oil press machine is the core equipment in small cooking oil production line, here we listed our BEST selling oil press machine. Choosing it not can improve the oil yield, but can also ensure stable performance for a long time. (Read more: Sunflower Oil Processing Equipment >>)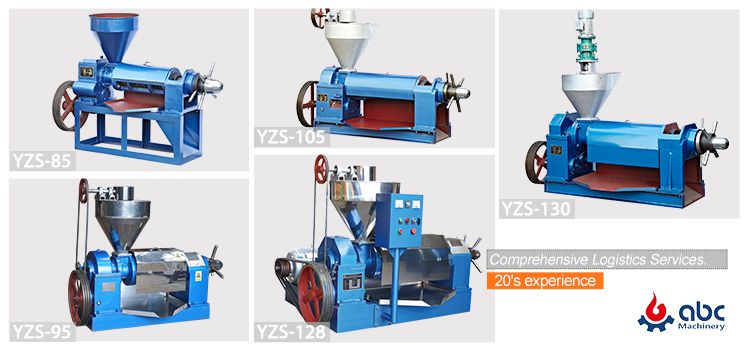 Small Cooking Oil Production Machine
Model
Capacity
Power
Outline Dimension
Weight
YZS-85 Small Oil Press
60-80kg/h
5.5Kw-4P
120*400*900mm³
260KG
YZS-95 Small Oil Press
150-200kg/h
(7.5-11)Kw-6P
1600*700*1350mm³
530KG
YZS-105 Small Oil Press
210-300kg/h
15Kw-4P
1850*700*1350mm³
580KG
YZS-128 Small Oil Press
300-375kg/h
15Kw-6P
2000*800*1170mm³
720KG
YZS-130 Small Oil Press
450-500kg/h
18.5Kw-6P
2010*800*1380mm³
820KG
YZS-150 Small Oil Press
750-850kg/h
30Kw-6P
2180*790*1790mm³
1060KG

Onsite Installation of Small Scale Cooking Oil Production Line by ABC Machinery
Full Set of Equipment for Cooking Oil Production Plant – Buy High Quality Oil Extraction Machine for Cooking Oil Making: Hot Sale cooking oil production line offered by cooking oil production machinery manufacturer or supplier, guide on process of cooking oil production and how to star cooking oil production business with limited cost in Tanzania, Egypt, Morocco, Ghana, South Korea, etc.