How Much Investment Cost and Profit in Your Own Castor Oil Production Business?
Castor oil is produced by pressing castor seeds. It is mainly composed of ricinoleate, a very moisturizing oil with excellent moisturizing effect, soothing and lubricating effect on the skin, with a wound-protecting effect and improving the absorption rate of water into the skin.
In addition, castor oil has a calming effect, especially for people who are tired, stressed or have abnormally sensitive skin, can effectively reduce skin sensitivity, also very suitable for use in the hot sun burned skin.(Read More: Castor Oil Making Technology)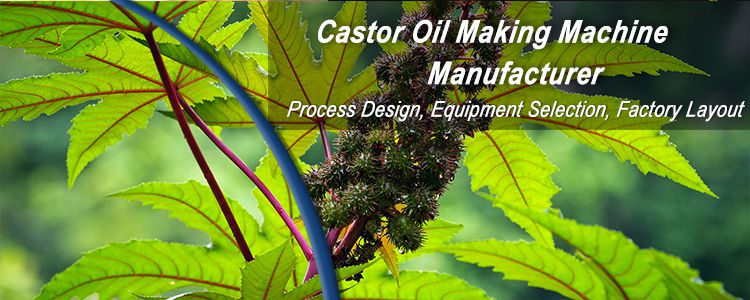 Investment Business: Set Up A Castor Seed Oil Plant
In this post, ABC Machinery is going to learn how to start a castor seed oil manufacturing business in simple steps.

Is Castor Oil Manufacturing Business Profitable?
The global castor oil market continues to grow at a CAGR of 3.4%, with a market size of approximately USD 1.23 billion in 2019. It is expected that the global castor oil market will continue to grow at a growth rate of around 3.0% in the next five years, and the market size will reach more than USD 1.42 billion by 2024, with good prospects for industry development.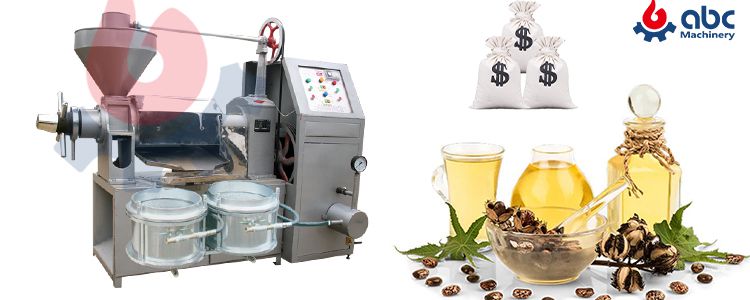 High-quality Oil Pressing Machines for Castor Oil
In the global market, the main application areas of castor oil are concentrated in the industrial, pharmaceutical, and daily necessities fields.In 2019, the global demand for castor oil in the industrial field accounted for 32%, which is its largest downstream demand market; the pharmaceutical field accounted for 30%, which is the second largest application market; the daily necessities field accounted for 25%, which is the third largest demand market; the other fields together accounted for 13% of the demand. Global castor oil application areas are more concentrated.

Castor Seed Nutrition Facts

| | | | | | |
| --- | --- | --- | --- | --- | --- |
| Serving size 100g | Calories | Total Carbohydrate | Total Fat | Calcium | Phosphorus |
| Daily values (DV) | 33% | 6% | 135% | 1% | 1% |
Therefore, vegetable oil remains in demand as a product, both for home use and for restaurants and fast food, making the castor oil processing industry a lucrative year-round enterprise.
Why build a castor seed oil manufacturing plant in India?
High demand (more needs): Globally, India has the highest production of castor seeds, accounting for more than 80% of the total global production, and India is also the largest producer of castor oil in the world, accounting for more than 90% of the total global production. India's domestic demand for castor oil is relatively small, and a large number of products are exported to foreign markets, with the main export destinations being China, Japan, the United States and the European Union.
Low investment: Raw materials are abundant and starting a castor oil mill does not require a large capital investment, you can start with a small amount of money.
Easy to start: You can start this company from your own home.
Make a business plan for your own castor seed oil processing and supply plant.
Required volume for a castor seed oil plant
Find an area location after completing the paperwork related to registration and obtaining permits.
Castor seed oil processing does not require a large space, just room to install equipment and store raw materials, as well as for the final filling of castor seed oil.
Tips: The site should be easily accessible, raw material supply and demand should be close to the regional location and transportation costs will be lower.
Choosing a location for a castor seed oil plant operation
For the castor seed oil processing industry, it is important to choose the best plant location. The ideal plant location should provide easy access to raw materials, as well as distribution and transportation of finished castor seed oil.
Once the plant location has been determined, the area to be covered by the castor seed oil processing plant must be prepared. In general, a complete castor seed oil processing plant structure can include a raw material storage area, a castor seed oil processing machine and a castor seed oil filling area.
Raw materials for a castor seed oil plant.
If you have land or extra capital to invest, you can farm it yourself; this may be cheaper, but it may take more time, which can be exhausting. Therefore, it is better to buy from a farmer. Since the quality of your finished product is determined by the quality of the raw materials you use, be careful when choosing and buying raw materials.
Video of Castor Seed Oil Pressing Machine Working
ABC Machinery is a powerful brand company in China for edible oil production, our castor oil making machines and spare parts configuration are sold worldwide. Reliable after-sales service guarantees the productivity of every customer who has purchased the machinery. Please do not hesitate to contact us!