Mini Mustard Oil Mill Plant Cost in India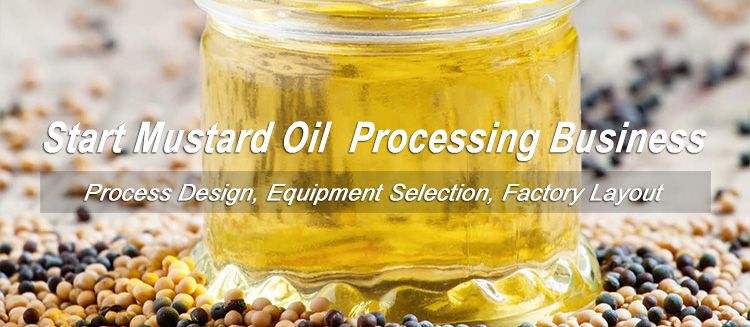 Start Your Own Mustard Oil Processing Business
ABC Machinery is now the largest oil mill machinery supplier and manufacturer in China. We work together with people who desire for start oil manufacturing business in their countries. Each year, we will set up many oil mill plant around the world, mainly in Russia, Moldova, Pakistan, Australia, Mexico, Jamaica, India, Nigeria, Togo, etc. We can promise the relatively low oil mill project cost, please contact us for details.
Total Cost Setup a Mini Mustard Oil Mill Plant
The cost to set up a mini oil mill project varies from the selected equipment, oil manufacturing process, final oil purpose and other factors. We always offer the customized plan based on customer's actual conditions to help customers avoid unnecessary expense. A mustard oil processing plant, about 5 tons per day, would cost at least $7,000. Actually, the total cost may be a little higher than it.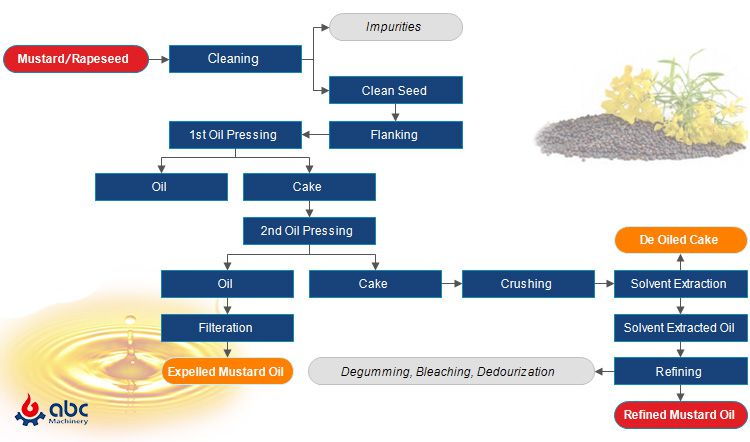 Complete Mustard Oil Extraction Process fo Industrial Scale Oil MIll Plant
If you are looking for the BEST mustard oil business plan or favorable mini oil mill machinery price, we are your reliable partner. We have rice experiences in building mustard oil manufacturing unit, especially in India.

Mustard Oil Processing Plant Project Report in India
Mustard oil has large demand in India. So, grasping the opportunity to run the edible oil business has been many people's desires. Below is two of mustard oil processing plant we built in India. One is about 5 tons per day, the other is about 60 tons per day.
1~20TPD Mini Oil Mill Plant for Mustard Seeds

5 ton per day Mustard Oil Mill Business Setup in India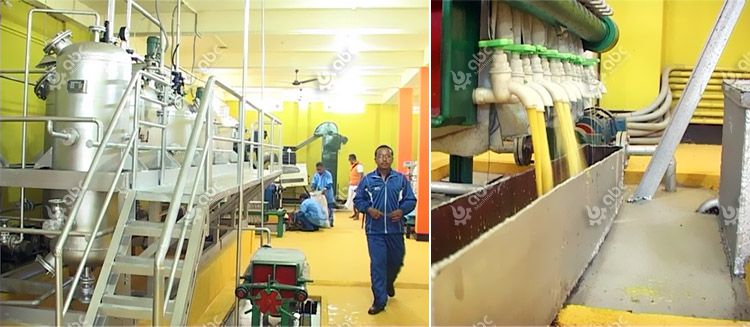 Mustard Oil Refining Equipment Details
20~200TPD Mustard Oil Production Plant in India


Oil Pressing Section and Equipments



Oil Refining Section and the Group Photo with Our Clients
Mini Mustard Oil Processing and Packaging Mill
Equipment Required for Mustard Oil Extraction
Mustard oil manufacturing involves different process. The detailed
mustard oil extraction process
includes seeds selection and cleaning, seeds steaming or cooking, oil pressing, oil filtering and oil refining. The required equipment for every process is listed below.
图片:芥末油小型生产线 描述:mustard-oil-mill-machine-for-small-production cheap mustard oil production line setup
Equipments for Starting 1-20ton/day Mustard / Rapeseed Oil Mill Plant
Conveyor is used to transport mustard seeds. Its function is to connect every mustard oil extraction machine to save labors, reduce cost and achieve automation. The basic conveyors for mustard seeds has bucket elevator and screw conveyor.
Removing dust, dirt, stones and organic impurities is the first step for any vegetable oil processing. The cleaning machine is used to remove all these impurities. Vibration sieve is the most efficient and popular cleaning machine for oil crops.
Steaming or Cooking Machine
Steaming and cooking can fully destroy oilseed cells, make protein denaturation, improve the oil yield and make the pressed crude oil more clear, at the same time it can help reduce the phosphorus content in the crude oil. The widely used equipment has vertical steaming cooker, rolling caldron fry seed machine, etc.
Oil Extraction Machine (Screw Pressing)
Oil pressing is the core process for mustard oil mill plant. In this process, oil press machine is usually used to squeeze oil out from the pretreated seeds.
The crude mustard oil pressed by the oil extraction machine may have many organic and chemical impurities, some of which can be removed in this sector. The popular mini mustard oil filter machine is plate and frame oil filter machine.
To produce high quality edible oil, oil refining process is necessary since it can remove the solid impurities, free fatty acids, phospholipids, colloid, wax, pigment and odor in the crude mustard oil. Edible oil refinery plant has batch type, semi-continuous type, continuous type.


Above is the main equipment for mustard oil production process. If you don't understand all its functions and structures, please contact us for help. We can offer your the BEST solutions to help you select the right and suitable mustard oil processing machines.


India's Mustard Oil Market


India Mustard Oil Market
In India, mustard oil appears as one of the leading oils for human consumption and creates growth opportunities. This sector has however been affected by fluctuations in prices affecting revenue for the government and income to the manufacturers. India has always manufactured enough mustard oil for their country up to date. It is necessary to harmonize the prices and income of the mustard oil sector urgently, to amalgamate through globalization and liberalization the Indian economy and the global economy. The private sectors and the government at large should come up with necessary methods to stabilize prices and income from mustard oil to ensure consistent revenue. Below recommendations below could be contemplated in efforts to monitor price and revenue stability in the mustard oil sector. (Latest Post: Oil Mill Project Cost in Pakistan >>)
Rapeseed / Mustard Oil Production of India ( 2015-2018)
Market Year
Mustard Oil Production
Growth Rate
2015
1900
19.05 %
2016
2166
14.00 %
2017
2356
8.77 %
2018
2584
9.68 %
Increasing the Production of Mustard Seed
Demand for mustard oil in India is growing at an alarming rate. Concerning this growth in demand, more land should be brought under farming to increase the production of the mustard seed to counter the increasing margin between the supply and demand for mustard oil. This could be realized through inter-cropping with other widely spaced crops and maybe thinking about growing mustard seed in the place of those crops with lower impact to the economy. Farmers should also be supplied with better viable seeds at lower prices as well as fertilizers. In addition to this, they should be well equipped with updated knowledge on crop management practices to increase mustard seed production. The government should also develop oil extraction and processing facilities as a backup to growth in this sector.
Advancement in Machinery and Technology
Both mustard oil producers and manufacturers should embrace technology and equipment upgrading to maximize the volume of oil extracted from mustard seeds. This will as well increase government revenue significantly. Through advanced oil processing machinery, it will be easy to export mustard oil as uric acid content will be reduced on Indian mustard seeds. Therefore producers and manufacturers will no longer be dependent on local markets and their uncertainties in future prices.
Advancing and Monitoring India's Future Market
Monitoring the online business for mustard seed and exchange with other commodities will significantly help to make sure that all the direct and indirect associates will have their income stable and predictable. India has to abandon those ancient trading techniques via monitored markets, and instead partake the commodity exchange market. Those successful members of the commodity exchange market were formerly ordinary traders who precisely predicted the price variations. Due to few opportunities for farmers, the country should create awareness among all farmers together with their unions to make sure they can secure their trade from future economic turmoil. This can be achieved by slashing down the entry fees to the commodity exchange market.

Other recommendations includes Planning an Orderly Market for Mustard Oil, Reconciling the Tax formation of Mustard oil, Openness in the controlled markets, etc. If you are a new comer in India's mustard oil industry and want get profits by establish mustard oil processing plant in India, we are professional supplier and manufacturer.