Small Coconut Oil Processing Machine Philippines Was Purchased
Recently, a customer from Philippines purchased one set of our coconut oil processing machine Philippines. From this customer, we know that He had a store selling oil with filling oil from the bulk oil before. Now, he wants to buy oil production equipment to press coconut oil and filling it into bottles for sale in Philippines. Based on his condition and requirement, we customized him with 300KG/H coconut oil pressing plant, 1T/D coconut oil refinery plant, and simple oil filling plant.(Related article: how to start cooking oil business in philippines)
Project Name: coconut oil processing machine Philippines
Project Position: Philippines
Main Process: coconut copra crushing process, oil pressing process, filtering process, refining process, filling process.
​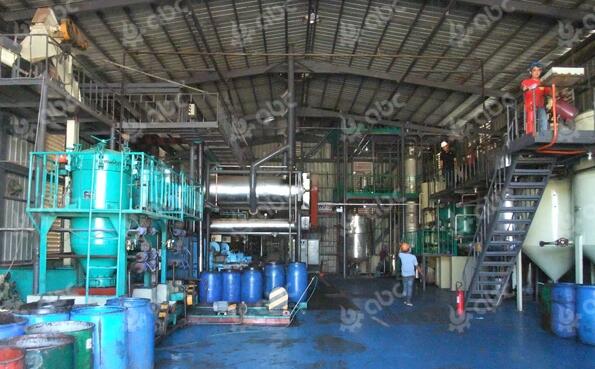 Coconut Oil Processing Plant Factory
What Is Coconut Oil?
Coconut oil is a non-volatile oil pressed from the coconut meat (dry) which contains 65%-74% oil and 4%-7% moisture. Coconut trees grow on islands in tropical areas or along the coast of the mainland like Indonesia, Philippines, India, Sri Lanka and Brazil etc. The produced coconut oil is white to yellowish clear viscous liquid, widely used for soap, detergent, resin, paint, food, etc. (Read more: somthing about coconut oil industry)

Coconut Oil Processing Machine Philippines for Sale
Coconut oil processing machines Philippines, also called coconut oil expeller, is designed to use physical mechanical pressing way to press oil out from the oil meat or seeds. Single oil press machine capacity ranges from 10-200TPD.
Technical Parameter of Coconut Oil Press
| | | | | | |
| --- | --- | --- | --- | --- | --- |
| Model | ZX24-3 | YZY260 | ZX28-3 | ZX32-3 | YZY290 |
| Output (kg/h) | 18-24 | 40-50 | 40-60 | 100-130 | 150-220 |
| Power (kw) | 30+5.5+3 | 75 | 55+15 | 90+11+5.5 | 135 |
| Weight (kg) | 5500 | 9000 | 9380 | 11500 | 14500 |
| Packing Size (mm) | 2900*1850*3460 | 3800*2320*3800 | 3708*1920*3843 | 4100*2270*3850 | 5100*2150*3900 |

Buying Customized Coconut Oil Processing Machine Philippines
Wide range of applications. The small coconut oil press philippine can not only be suitable for household oil production, also be used in small oil workshop and oil production factory requiring complete equipment etc.
Equipped with small size equipment, coconut oil processing machine Philippines are easy to install, operate and maintain and have a small footprint. (Related article:small oil mill project cost)
The mini oil production line is well designed, beautiful in appearance, simple and compact in structure, suitable for modern oil production plants in urban and rural areas.
With the advantages of high purity, light color, the produced oil in is easily accepted by most people.
With low cost in investment, land, labor and consumption etc., it is also suitable for new starters to start new business.(Read more: oil mill project cost)