Tank Group Solvent Extraction Oil Mill Plant
Tank/Pot Group Edible Oil Making Machine for Sale (Solvent Extraction)
The tank group edible oil making machine, generally consisting of multiple extraction tanks, is a common leaching equipment used in small solvent oil extraction plants. This kind of leaching tank is suitable for the pre-pressing leaching of a variety of high-oil oils (cotton seed, rapeseed, peanut, sesame, etc.), and also suitable for one-time leaching of low-oil oils (soybean). For the production capacity, it is most suitable for the factory whose scale is below 20TPD.


Stainless Steel Type —— Mini Scale Cottonseed Oil Solvent Extraction Plant Line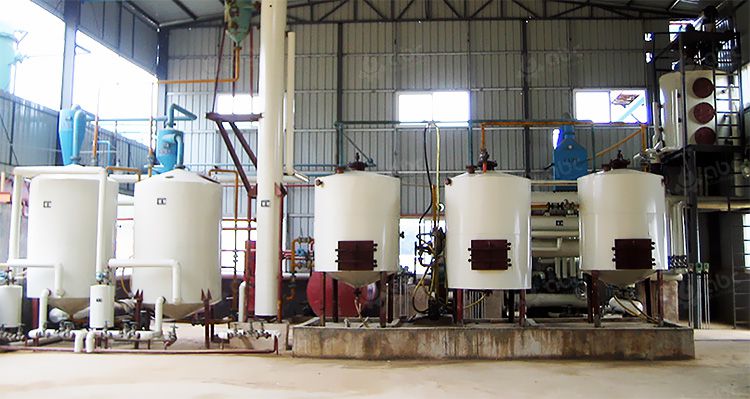 Carbon Steel Type - Small Complete Set of Cottonseed Oil Mill Machinery
Project Investing Cost and Equipment Selection (Refference List)

Specification

Output (ton/day)

Cost Estimate (USD)

Picture Reference

Note

Pilot Scale

<2

20,000-40,000

Selectable Machinery material:
a. Alloy steel
b. Carbon steel

Small Scale

2-10

30,000-80,000

Selectable Machinery material:
a. Alloy steel
b. Carbon steel

Middle Scale

10-20

50,000-100,000

Machinery material:
Carbon steel

Large Scale

>20

>100,000

Better suggestion: Rotocel Extracting Equipment

Mini/Small Complete Cotton Seed Oil Processing Machinery


Cottonseed Oil Production Line Supplier
Generally, when talking about cotton seed oil production, we think about mechanical pressing method. Actually, there is another methods called solvent eatrxtion which adopts orgalic solvent to extract the oil out, which is at cheaper price. (Related article: cottonseed oil mill project cost)
Why Choose Solvent Extraction Oil Mill Machinery?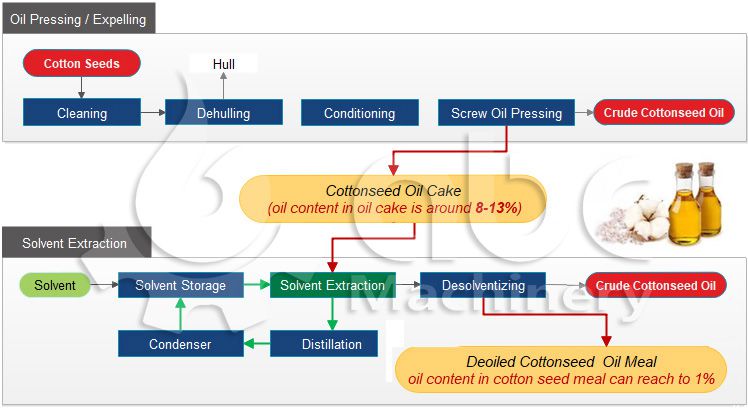 Benefits of Pre-pressing & Solvent Extraction Oil Mill Plant
Normally, after pressing method, the left oil cake has oil content of 8-13%. While after solvent extracting process, the oil content of cotton seed cake can be reduced to 1%. Thus through our Tank / Pot Group Solvent Extraction Equipment, 7% more oil can be extract out. The modulator is more unstable for the customers who requires less output of oil cakes per day, or who has idea of investing the oil extraction as small business.

Highlights for Solvent Extraction Cotton Oil Making Machines
Low investing cost, fast return, suitable for small oil production factory.
Designed with small size, simple structure and easy operation, reducing the cost labors, power consumption and maintenance.
It is developed with low electricity consumption cost. For example, in a 10T/D oil extraction production line, the packing volume is less than 20 KW.

In this mini tank group type leaching process, each single tank is with batch-type production. In case of trouble is occurred in some area of the single tank, each single tank can stop for checking and repairing without stopping the whole production line. (Read more: mini oil mill project cost)
Photos Display: Successful Cotton Seed Oil Processing Project at ABC Machinery
Cotton Oil Making Machinery Manufactrued with Different Materials
Video: Tank/Pot Group Solvent Extraction Plant Running Details
The following video is to show how the working details of cotton seed oil making machines with solvent extraction method. If you have any questions about it, you can contact us for free.
Solvent Extraction - Oil Production Method Principle
Processing oil production by solvent extraciton method is currently a relatively advanced oil production method. The principle is based on the similar chemical compatibility principle, using a certain solvent that can dissolve grease, through contact with the oil-soaking or spraying, so that the grease in the oil is extracted. And during the cotton seed oil extraction process, orgalic solvent extraction is usually used like the hexane extraction . (Read more: extraction of mustard oil)

Main Process of Cottonseed Oil Making Machines
The solvetn extraction process of the tank group mainly includes: feeding, extacting, pressing down, steaming up, and discharging meal. Tank-type extractors are mostly used for the extraction of oils with high powder content and cross solvent permeability, or for the extraction of special material components. (Read more: mustard oil extraction process)


Cottonseed Oil Extraction Process
Each leaching tank completes the steps of feeding, extracting, pressing down, steaming up, and extracting meal in turn. Several leaching tanks can form a continuous cyclic leaching process. After the leaching is completed, the down pressure of the steam reduces the solubility of the wet meal to about 5%, and the steam consumption is low when the wet meal is desolvated. (See more: groundnut oil extraction process)
Bright Prospect of Cotton Seed Oil Making Machinery Industry
Cotton seed oil has his own advantages, like high content of essential fatty acids for the human body, having good effect on keeping human health. (Read more: soybean oil making process)
Additionally, with the elimination of the public's negative perception of cottonseed oil, as well as the introduction of a series of national policies to support domestic oilseeds and the promotion of the grain and oil industry, the cottonseed oil production industry will have good development and bright future. (Related article: mustard oil business plan)
Countries with the Highest Percentage in Global Cotton Seed Oil Production
Country
Percentage
India

65%

China
Pakistan
Uzbekistan
Brazil

26%

Australia
the United States
Turkey
Burkina Faso
Myanmar
As one professional cotton oil making machine manufacturer and supplier, we are offering not only the single cotton seed oil making machines for sale, but also providing the whole cotton oil making equipment for cotton oil making factory. Whether you want to setup cotton oil making plant for commercial use or investing use, we are offering you the best service.