make use of soybean meal after producing soybean oil
The Evolution of the Humble Soya bean
Soy is rich in soy lecithin, which is beneficial to the development of the human nervous system. Soybeans have many uses and production methods. For example, the edible value can be used to make edible soybean oil. Besides, soy flour is a high-protein food that replaces meat and can be made into a variety of foods, including baby food. In addition, crudely processed soybean oil is a good industrial oil and after extracting human edible oil from soybeans, the remaining by-product is soybean cake, which is a high-quality protein feed. It is a high-quality protein feed for chickens, pigs, and ruminant livestock such as dairy cows and beef cattle.


Make Soybean Oil
Global Soybean Market Analysis
Soybean (Glycine max) is a major crop throughout much of North America, South America, and Asia. The United States produces the most at approximately 32% of the world's soybeans, followed by Brazil with 28%.
The main positive factors for international soybean production are: the surge in international soybean prices and the increase in planting profits have stimulated the enthusiasm for soybean planting in various countries. In addition, this year has encountered an unprecedented new crown epidemic, causing more unemployment, further stimulating agricultural development, and vigorously increasing soybean planting and production. Its main producing countries, the United States, Brazil and Argentina, have seen increases in soybean production.


Global Soybean Oil Market 2019-2023
How to Make Soybean Oil?
The processing technology of pressed oil is "physical pressing method", and the processing technology of leaching oil is "chemical leaching method". The production process of the physical pressing method requires that the raw materials must be selected. The oil is crushed, steamed, and pressed after removing impurities and stones to separate the oil from the oil. The fried seeds are added during the pressing process, and they are pressed by the oil press machine, and made with high-tech natural filtration and purification technology.
The leaching method adopts the organic solvent extraction method. The oil is fully combined with organic solvents and then extracted. However, organic substances such as n-ethane that are toxic to the human body are extracted and it is difficult to completely remove. Only after the scouring meets very strict standards, can it be eaten with confidence, otherwise, it is easy to have harmful effects on the human body.
Soybean oil is growing in popularity as one of the most nutritional oils packed with omega-3 fatty acids and polyunsaturated fats. (How to make high quality soybean oil,learn more about Soybean Oil Processing Technology.)This oil itself has many benefits. It has been proven to lower cholesterol, reduce diseases such as Alzheimer's and osteoporosis, and improve the health of eyes, skin and heart.This extensive list of health benefits are causing more people to try making the oil from the comfort of their own homes.
The question many are asking though is what to do with the product that's left after the oil is made. Does it have to go to waste? No, in the following article, I will take you through the remaining material after soybean oil extraction-soy bean curd, how to make feed pellets.
What is Soybean Meal/Cake?
This product is actually called
soybean meal
and is what is left once the oil is extracted from whole soybeans, while
soybean cake
is what is left when the soybean is pressed to make oil. Raw beans are cleaned and dried and their hulls separated. The beans are then passed through cracking rolls and heated to 175 degrees for 10 minutes. The oil level is reduced to under 1% using solvents such as hexane. Once the extracted flakes are dried and toasted , they are ground to meal. This meal is generally around 50% protein which is considered too high for animal consumption so additional hulls are reintroduced to fix this. It is one of the most popular supplements for cattle in America, due to it being so incredibly high in protein and energy.

Popular Uses for Soybean Meal/Cake
Soybean meal is the main protein supplement used to feed livestock. Around 30% produced in the US is exported for similar use worldwide after being made into pellets.
Generally, the meal will be fed to swine, beef cattle, dairy cattle, fish and a small fraction even goes into pet food.
About 2 percent of soybean meal globally is used for soy flour,
soy protein isolate production
(industrial scale) and other human food products. Soy flour "provides the basis for some soy milks and vegetable protein", and is marketed as full-fat, low-fat and defatted.
Other similar oil residues that can be used as poultry and livestock feed includes:
Peanut meal/cake
Rapeseed meal/cake

The Benefits of Making Soybean Meal into Feed Pellets
No wastage of excess product – The meal is inevitable after the production of soybean oil so without finding a use for it, it'll just end up in the bin.
It can be sold to farms and cattle keepers – there is a worldwide market for this product so it'd be lucrative, especially if producing oil on a regular basis to contact a distributor and see about joining the supply chain.
It is high in protein and carbohydrate – It is has proven benefits to animals which gives it a timeless value.
A relatively simple process – It is not overly complicated to manufacture with the suitable equipment.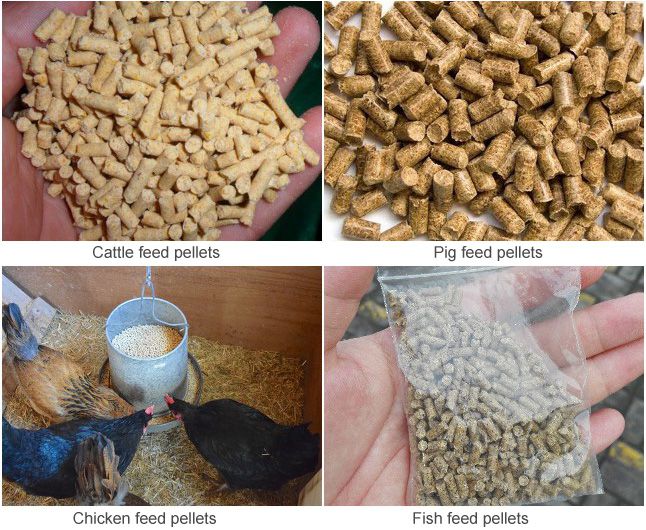 Using soybean meal to make pellets for animal consumption should be top of the list for anyone producing soybean oil. Producing large quantities of meal on a consistent basis may warrant the investment in a pelletization system which range from $5000 upward. Local farms and wildlife centres would be a great place to find out how to get started.
But there is a great chance that
You can get a set of feed pellet mill (value $500) for FREE!
Click the picture and you will see the feed pellet mill details.
If you now order our small oil press line, you will get it! Contact us now to get the chance!